​
SHOWCASING TRULY OUTSTANDING CIVIL ENGINEERING PRACTICES
The NCE100 is New Civil Engineer's annual awards recognising and celebrating the most innovative, impactful and inspirational firms operating in civil engineering.
This year we have new categories recognising key indicators of excellent business culture including talent management and corporate social responsibility. We have also expanded our categories recognising key services to clients to include excellence in whole life asset management and excellence in data analytics.
Taking place on Thursday 18 June 2020 at The Brewery, The NCE100 awards will bring the UK civil engineering community together as we recognise and celebrate the outstanding achievements accomplished this year.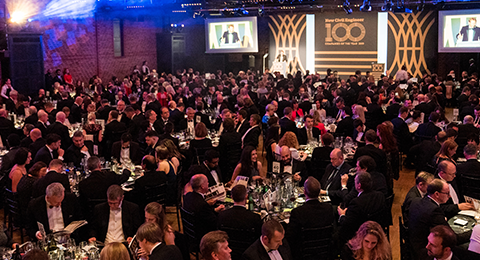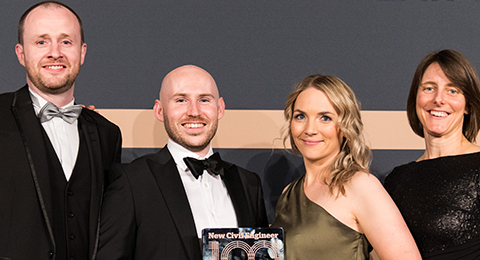 Key dates

Mon 28/10
ENTRIES OPEN

Fri 31/01
ENTRIES CLOSE

March
JUDGING

April
SHORTLIST ANNOUNCED
Thurs 18/06
NCE100 AWARDS
"The NCE100 2018 event was an absolute success! A room full of talented engineers from exceptional companies, receiving one of the most prestigious awards in the engineering/construction world - what else could be more exciting?"
Jonathan Khor, team leader - bridges and civil structures, Opus International Consultants
"Recognition as an NCE100 Rated Company is a 'must have' accolade for any serious business operating in a sector that contributes so much to society."
Steve Wooler, chief executive, BWB Group
"A great process to recognise all that is great about the Civil Engineering industry. As an SME it is great to see our business share a platform with such esteemed company. The business is proud to have been shortlisted for 3 Awards and part of the 'Trending 20'."
Pedr Jones, commercial director, Waterco
"The NCE100 awards process highlights where companies are delivering real impacts and advances. The results are a valuable resource for other companies to consider, and the sector more generally, both in the UK and globally."
Jonathan Chapman, senior skills advisor, Environment Agency
"The NCE100 awards is a great process to recognise all that is great about the Civil Engineering industry. As an SME it is great to see our business share a platform with such esteemed company. The business is proud to have been shortlisted for 3 Awards and part of the 'Trending 20'"
Pedr Jones, commercial director, Waterco
"The NCE100 Awards are a great advertisement for the skills and quality of the people we have within the construction industry and how the every growing diverse skill set we are developing leads to the delivery of innovative projects and schemes future proofing the industry."
James Birch, regional director, Kier